If the gibbons are watching, they are probably feeling a touch disdainful. For our primate cousins, this kind of treetop travel is a doddle. Equipped with nothing more than mobile wrists and a gung-ho disposition, gibbons are nature's great arboreal acrobats, capable of travelling from branch to branch at great speed.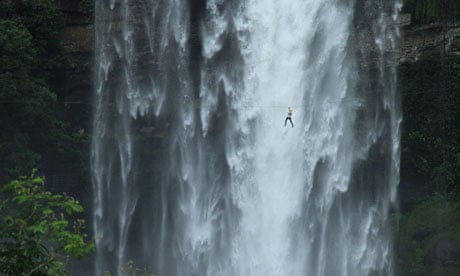 But for less nimble apes looking to emulate their swift passage through the jungle some assistance is needed, which is why I'm standing on a wooden platform in the gibbon's treetop domain, fumbling with the ball-bearing pulley that is attached to my waist, skeptically twanging the taut wire above my head, and preparing to jump.
At first glance, Nong Louang might seem an unlikely launch pad for an aerial escapade. A postcard Laotian village of wood-slat houses surrounded by coffee plantations, an hour's drive from the southern gateway town of Pakse, it is a portrait of rural entropy: men loll on rattan mats quaffing Beerlao; corroded signs advertising homestays hang above the dirt road, sullen monuments to a foreign footfall that, until recently, never materialised.
But against this backdrop of indolent Indochina, looking incongruous in bright yellow harnesses and orange helmets, adventure-hungry tourists have started coming to experience something thrilling. Each morning they gather for a safety briefing, before tramping east towards the jungles of Dong Hua Sao, a largely pristine national park that spills over the 1,300m-high rim of the Bolaven plateau in southern Laos. They walk for 10 minutes, until the trees converge and the gradient steepens. Suddenly there's a green abyss before them, and the question of how to get down …
"Ziplines were the answer," says Inthy Deuansavanh, founder of Green Discovery, Laos's leading ecotourism company, and the driving force behind the Treetop Explorer, a cat's cradle of galvanized steel wires that takes the phrase "jungle-gym" and turns it into a swashbuckling reality. Opened in 2011, after a rain-soaked year of survey expeditions and complex engineering, it has fast become a flagship destination on the falang road, luring travellers into a hinterland that was previously all but impenetrable.
"In the past it was impossible to fully experience Dong Hua Sao because there was no route down the escarpment," Inthy says. "These wires have opened up paradise."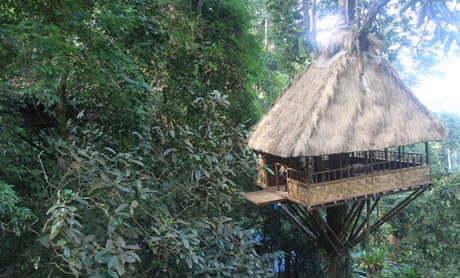 Live like a Ewok in Jungle Hotel Paksong, Laos
Just 200m after my apprehensive flop on to the first line, I swoop down to the landing platform like a trainee ninja, already convinced that I have discovered the perfect way to travel through the jungle. An hour later and I have unleashed my inner apeman, and set him soaring on a series of ever-longer wires, all connected by short treks, abseils and canopy walkways.
With each traverse, the chorus of joyful whoops grows louder as our small group gains confidence. Soon we are all whizzing to and fro before the network's spectacular showpiece: the Kamet Falls, a multi-tiered cascade that topples over the escarpment brim before plunging 120m into the river basin far below, fracturing the sunlight into arcing rainbows.
And this is just the way in, for there is one final zipline to negotiate at journey's end. This is the one that takes you into your treehouse, which is just about as terrific as it sounds. Perched in the canopy like an Ewok village, Jungle Hotel Paksong is the Treetop Explorer's hub: six open-sided treehouses containing basic but comfortable en suite bedrooms, each cradled in the coils of strangler fig trees up to 20m off the ground. For who wants the jungle floor, with its thorny underbrush, claustrophobic murkiness and – as our trek out of Nong Louang attested – blood-sucking leeches? Instead we have privacy, birdsong and unimpeded views over the surrounding trees.
Happily, the jungle's hospitality is reciprocated by an underlying commitment to minimising the project's impact on the surrounding ecology. Manager Boun Kounlavong says: "Our guests rely on the forest for their accommodation, but the forest is relying on us for its very survival."
Every bit of this organic village, from the bed frames to the grass-thatched roofs, has been constructed from indigenous materials. Electricity is supplied by a waterfall-powered turbine, while the evening banquet we enjoy in the restaurant area at the base of the falls – fistfuls of sticky rice and marinated meats, eaten communally, straight from a banana leaf, and washed down with lao-lao, throat-shredding rice whisky – has all been sourced from the villages that dot the park's periphery.
In 2000, the Laos government cited ecotourism as a keystone of its Millennium Development Goals – aimed at lifting the country out of the world's 20 poorest by 2020. And projects like this one give cause for optimism. In a region where illegal poaching and tree felling are rife, the Treetop Explorer has brought sustainable jobs, and a portion of its profits is channelled into conservation. Baffling as our intrusion might be for the forest's endangered yellow-cheeked gibbons – which are often spotted cavorting among the foliage that flanks the cataracts – they are benefiting, indirectly, from our presence.
At night, as I lie under my mosquito net immersed in the canopy's insect thrum, I can drift off with my conscience clear.
And it pays to rest well. Soon after you wake – to the smell of Bolaven coffee and the accelerating whine of people zipping off for breakfast – the Explorer tempts you into further high jinks. There are trekking routes, of course, several of them heading to nearby beauty spots, and if that's too pedestrian, a via ferrata – a vertical climb of iron pegs and hand-grips, an idea imported from Italy's Dolomites – ensures that the journey up to the plateau is as heroic as the route down.
But I already know where I'm heading this morning: a wooden platform, 20 minutes out of camp, where another steel wire offers the longest flight path of all. For when a zipline runs between two A-frames in an adventure playground it is a moment's fun. When it runs for 450m across a jungle ravine, through wisps of mist and splayed thickets of bamboo, past oceans of green and distant waterfalls, it transports you into the realms of the magically surreal. This time when I clip back on, there is no hesitation.
"Leave only footprints," goes the responsible traveller's mantra. In Dong Hua Sao, I am discovering, your feet need hardly touch the ground.